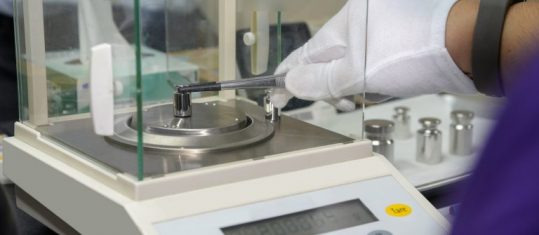 Laboratory analytical balances are a vital part of the pharmaceutical industry. Weights and measures of all types must follow exacting standards in order to create a successful end product. A weighing analytical balance can provide for accurate weight measurements, which can also include quantification of solids, powders, or solutions.
An excellent lab balance can have certain properties that set it aside from all other weighing scales.  Ease of use is at the front line, but accuracy has to be the most important. Microchip control has brought the laboratory scales into the digital age, a long walk away from the standard triple-beam scales of yesteryear. Microchip control enables the balances to zero instantly, without error, assuring the technician doing the weighing that the balances are accurate to a tiny margin.
Some Laboratory scales are so sensitive that air currents can interfere with the results, thus driving manufacturers to provide shielding on their scales to prevent drafts from wreaking havoc on the weights measurements. This is a beneficial added feature of many good balances, and may come standard with the company you choose to be your scales provider.
Other important features for the digital balance should be an easy to read digital display, possibly back lit for ease of viewing in darkened laboratory environments. Tare balancing is an important configuration also, as it facilitates different container uses while weighing out materials. A sturdy platform for heavier or larger volumes may be necessary, and you can be sure there are many manufacturers of balances that have such configurations in their product lines.
Laboratory balances are found in every research and development labs for their precision dry measures and accurate item counting capability. You can be sure that the advancement and improvement of these scales has been accomplished, as the balances have entered the digital age.
Anti Vibration Technologies is pioneer in the field of designing and developing state-of-the art anti vibration tables, which provide the user with a truly vibration free environment for accurate weight measurements all the time.
For quotes, specifications or to discuss your unique application needs, please contact us or call us at +91 9393728474.