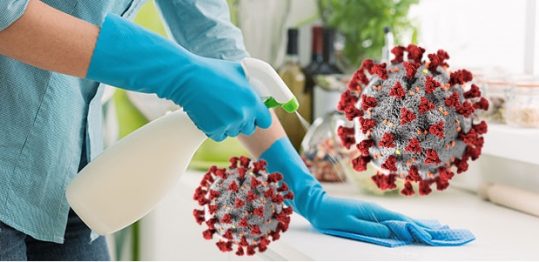 Protect your home and family with cleaning measures to avoid Coronavirus.
Till coronavirus spread prevails and new information to control ongoing pandemic develops the info given in this article may change since its last updation. For the latest updates on COVID-19, keep your eyes wide open to online resources such as CDC, WHO, and your local public health departments..
The COVID 19 pandemic is strong enough to break the barrage of your routine cleaning mechanisms. Mere cleaning of the house, including bathrooms and kitchens after their use, is no more a solution to ensure your family's safety. Keeping all frequently touched household objects and surfaces such as kitchen shelves, faucets, remote controls germ-free have become more crucial than ever.
All the products available in the market are not always effective in killing all types of germs. Hence, it's vital to know that all disinfectants or cleaning products are not equally effective in what they claim. Some disinfectants never work on specific types of germs and viruses and therefore are required to avoid. At the end of this article, you will know all the effective products along with the ways to maximize their effectiveness, to fight the antagonist Coronavirus.
What kills coronavirus?
An Environmental Protection Agency (EPA) running in the U.S. has assembled a list of products that hold the potential to kill the newest version of the virus, causing Covid-19. Not yet tested on Corona directly but proven to kill similar symptoms exhibiting rhinovirus causing common cold; hence, the agency expects these products to work on the coronavirus, too. These all products differ in their ingredients, concentrations, and formulations, its recommended to use them as printed on their labels.
These products include:
Clorox Disinfecting Wipes
Clorox Clean-Up Cleaner + Bleach
Lysol Disinfectant Spray
Lysol Multi-Purpose Cleaner with Bleach
Lysol Multi-Purpose Cleaner with Hydrogen Peroxide
Purell Multi Surface Disinfectant Spray
Microban 24 Hour Multi-Purpose Cleaner
How to use cleaning products to kill coronavirus
Do not start by using the cleaning or disinfectant product directly instead go along checking on their labels to ensure their registration with EPA and what percentage and scope of bacteria they kill. You can easily find the EPA registration number printed in small type and usually present at the bottom of either front or the backside of the product along with the list of bacteria type it kills.
You must be wondering why you need to check this?
Any cleaner that claims to kill germs requires to have a registration in EPA as specified by law.
In addition to this, even us at Good Housekeeping Cleaning Lab rely on EPA while evaluating any of the cleaning products which assure the product will work as per its claim if you carefully follow its label directions. You should also this practice to ensure optimum hygiene at your home.
A few more points:
Disinfecting is quite different as compared to sanitizing. Sanitizing (kills up to 99.9% of germs) takes less time-merely 30 to 60 seconds, whereas disinfecting (covers 99.999% germs) can sometimes take up to 10 minutes of the process.
Check the duration of time the disinfectant requires to work for effectively killing germs on hardcore, non-porous surfaces. As liquids evaporate fast, this may lead you to apply multiple layers of the product.
No product can sanitize or disinfect a mucky surface with 100% accuracy, hence do make sure to clean using soap and water- before even disinfecting.
What DIY cleaning products kill coronavirus?
According to the U.S. Center for Disease Control (CDC), products available at home can be used to disinfect the hardcore filthy surfaces.
You can mix 1/3 cup of chlorine bleach (sodium hypochlorite) per gallon of water, or as Clorox recommends, you can use 1/2 cup bleach per gallon of water to disinfect surfaces.
How to use: Wear gloves and dip a cloth in the mixture you prepared, wipe on the surface, let the solution stay till it air dries on the surface for a minimum of five minutes.
Rinse all surfaces, including kitchen surfaces, like countertops and shelves using luke-warm water, and let it dry after you are done with disinfecting. Avoid any contact of the DIY solution with your eyes and clothes and use it very carefully on stainless surfaces and steel sinks.
It's highly recommended to make a new bleach and water solution each day for disinfection to get optimum results from each use of it.
Does hydrogen peroxide kill viruses and bacteria?
CDC says Hydrogen peroxide is an effective and stable disinfectant for the elimination of a wide variety of micro-organisms which includes viruses and bacterias along with a range of pathogens.
Hence, using it on filthy surfaces ensures complete removal of bacteria and viruses. Usually sold in 3 % solutions, you can use it directly from the bottle without any hassle. It's a good practice to wear gloves and keep it away from clothes while you are cleaning with it.
How to use: Spray or wipe surfaces with the solution. Let the surface absorb the solution for one minute and then wipe it out dry.
Can alcohol disinfect surfaces?
Another highly effective disinfectant to uproot pathogens, including coronavirus is Isopropyl alcohol, which only demands a 70% concentration to work as said.
It's highly used in rubbing alcohol within the concentration of 60-99%. As its a quick evaporator, we recommend using 70%(pure) concentrated Isopropyl alcohol to fight against coronavirus.
How to use: Wipe or spray on the surface using this alcohol and make sure to let it stay wet for a minimum of 30 seconds.
Does vinegar kill germs?
No. As per the CDC and NSF (National Science Foundation in the US), vinegar (itself or vinegar-based cleaning products) should never be used to disinfect or sanitize.
It is not registered with the EPA in disinfectant category hence, we don't recommend it to be used as a disinfectant.
It is ineffective to kill most of the bacteria and viruses – it would not be appropriate to kill the flu or coronavirus.
Although undiluted white vinegar can work on some types of bacteria, but it's not a way to get surfaces 100% germ-free. (Besides this, COVID-19 is a virus, not a bacteria.)
What other measures can be taken to ensure hygiene?
Regular use of soap and water ensures to remove germs and nearly nullifies the chance of getting any infection. Hence adding this tip before disinfection will prove highly appreciative. As you can not leave the disinfection process, it is necessary to actually kill the germ.
Do not experiment combining of disinfectants with other products and always keep your windows open to let the harmful fumes out.
Disinfectants can't clean the soft, porous surfaces; hence antibacterial-sprays can be utilized to clean plush toys, cushions, etc.
Test before use for safety in a small area when heading to use hydrogen peroxide, or any other disinfectant on a surface, mostly in tender areas.
Food contact surfaces should always follow rinsing of surface and drying after disinfecting unless it is specified on the product to be not necessary.
Disclaimer: This content including advice provides generic information only. It is in no way a substitute for qualified medical opinion. Always consult a specialist or your own doctor for more information. Anti Vibration Technologies does not claim responsibility for this information.