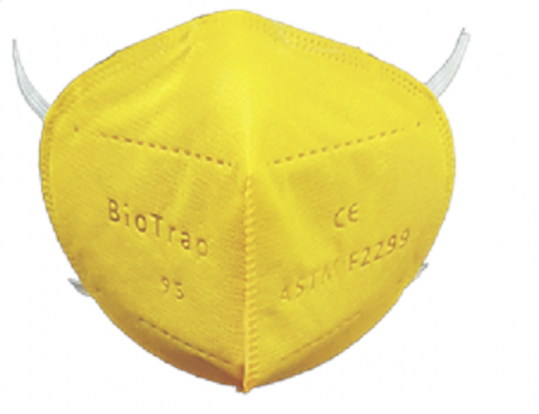 Besides urging people to stay home and wash hands regularly, prime health organizations around the globe have constantly mentioned the usage of face masks to avoid the spread of Coronavirus.
People all around have shown great concern regarding this fatal virus and have gone up to making their own homemade masks, due to scarcity of the store-bought ones.
However, the general public was not enlightened enough about the strength of these masks in shielding them from the virus, until this latest research came into limelight.
The present-day study issued in Physics of Fluids, a scientific journal belonging to AIP Publishing, unveils the ways following which homemade masks were to be assembled in order to provide ultimate protection.
'While most of the medical establishments had instructed people to cover their faces, not much was known about what type of material was to be used and in what pattern', stated Siddhartha Verma, Ph.D., this study's founder plus an assistant professor at Florida Atlantic University.
Stitching them the right way
In the opinion of Northwell Health's director of geriatric emergency medicine, Dr. Teresa Amato, wearing face masks were essential in blocking the transference of this virus.
'Individuals might be asymptomatic carriers of Covid-19 putting other incapacitated people at risk of catching the disease. Putting on a mask would, therefore, protect one from spreading the virus or getting infected. Thus, it is vital to acknowledge the purpose of putting on a mask and how it could reduce global transference of Coronavirus', she dictates.
Masks such as the N95 provide maximum protection from the virus but are not available or meant to be used by regular people. But that in no way means we are unsafe.
'As simple clothing materials like bandanas and handkerchiefs are of no use due to being prone to leakage, knitting masks using tightly stitched, double-folded cotton with firm yet comfy ends reduces corona transference', affirmed Verma.
'Cone-style and surgical masks are also a good option to go for as they are not being saved up for the health workers like the initial times and are widely available', added Amato.
Social distancing is still on
Face masks are certainly not the complete savior as the virus can also enter our bodies through our eyes and ears. Thus, 'maintaining physical distance with regular hand washing and sanitization are crucial too, before we get introduced to an efficacious vaccine', told Verma.
'Crowded spaces are to be avoided as simple things like singing and yelling could cause the virus to travel beyond 6 feet' adds Amato.
To conclude with, Verma hopes that this research would be beneficial for the masses and encourage them to wear masks as 'every 1 out of 3 asymptomatic people may unknowingly spread the virus'.
Disclaimer: This content including advice provides generic information only. It is in no way a substitute for qualified medical opinion. Always consult a specialist or your own doctor for more information. Anti Vibration Technologies does not claim responsibility for this information.