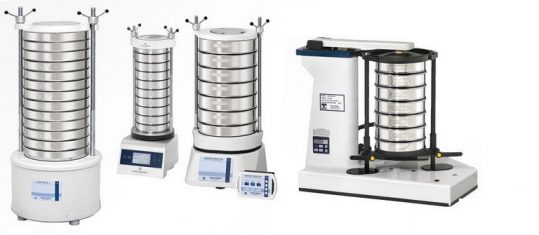 Sieve shakers look like a stack of sieves arranged one on top of the other, in a decreasing order of pore size. Now, what could be the use of a sieve shaker?
In order to study a given liquid or powder sample for the distribution of particles within it, a test called particle size analysis is done. The analysis is meant to find out the average size of particles or the range of particle sizes that the sample contains. Particle size analysis can be a key element in determining the physical and chemical properties of a given sample.
Particle size analysis using sieve shakers follows a very simple system. The set of sieves are placed one on top of another in such a way that the sieve with the largest pore size is placed right at the top. When the sieve shaker is shaken or tapped, the sample containing particles of various sizes pass through the meshes. Each mesh, in turn, holds back a particular size range of particles.
Hence, in the end, the biggest particles will be held in the topmost sieve and subsequent sizes in the sieves below.
The applications of sieve shakers are many and widespread. They can be of use in agriculture where the soil is concerned, pharmaceuticals where powdered chemicals have to be studied, food industries for food in the powdered form and so on. Sieve shakers are typically used in these fields to measure particle sizes in the milli and micro ranges.
Today, even after particle analysis with newer technologies has come in, like the laser diffraction to determine the size and shape of components in the sample, the sieve shaker has still not gone out of use.
In its initial days, the sieve shaker was held and tapped at regular intervals by hand. Nowadays, the rotation and tapping are done mechanically.
However, even with the modern day improvements to the machine, the sieve shaker can be one noisy, vibrating instrument to have in your lab. This, in turn, can be a disturbance to the other machines that are placed nearby or in the same lab. It is thus advised to place the shaker inside a soundproof enclosure and on a table with suitable absorption. This not only prevents the shaker from disturbing the work on other instruments but also keeps the external vibrations from affecting the particles in the shaker sieves during its operation.
We realize that each lab has unique needs and so we can help you by coming up with anti-vibration techniques specifically suited to your work environment. We at www.antivibrationtable.com offer you a customized solution to your problem.
To know more about anti-vibration techniques suitable for your work environment contact us now through our web page or give us a ring at +91 9393728474.