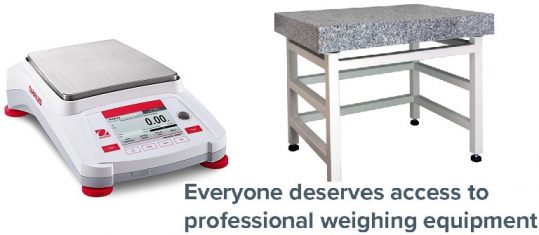 The top loading weighing balance, also called the 'top-loader' balance is a very popular instrument in laboratories and it is available in various specifications. It can measure from a few grams to 50-60 kg and are hence quite convenient. They can measure heavier loads than a standard analytical balance. The disadvantage though, is that they are less precise.

Top loading weighing balances consist of a pan on top to place the object being weighed, and a weighing system that shows the output on a digital display. The instrument must be placed on a vibration free bench and away from any source of droughts so that it gives an accurate reading. Before using a balance, it is necessary to tare the balance. Taring the balance means recalibrating it before measuring the sample. It is the adjustment made to ensure that the container holding the sample is not weighed. First, the empty container is placed on the pan and the tare button is pressed. This brings the reading with the container on pan to 0.0. After this, any sample that is added to the pan will be measured.
Balances today use the principle of magnetic forces restoration to weigh objects. Here, the force exerted by the sample on the pan is countered with the force from an electromagnet. The force exerted by the sample is first measured and then the weight calculated based on the acceleration due to gravity. Since the value for acceleration due to gravity varies from place to place, depending on the latitude, altitude etc of a place, there is a need to calibrate the instrument at the place where it will be used. Calibration is the process of checking the balance reading by testing it's reading against a known value. Calibration must be performed in a vibration free environment so that the accuracy is maintained for further readings as well.
Top loading weighing balances come with a response time of 0.7 seconds to 2.5 seconds. A balance with a smaller response time is always preferred. However, this aspect can depend on many factors and one significant concern is the presence of mechanical noise. Mechanical noise is the effect of vibrations from the environment around that end up being measured as force by the instrument. This gives an inaccurate reading on the balance and also increases the time taken by the balance to settle down.
We realize that each lab has unique needs and so we can help you by coming up with anti-vibration techniques specifically suited to your work environment. We at Anti Vibration Technologies offer you a customized solution to your problem.
To know more about anti-vibration techniques suitable for your work environment contact us now or give us a ring at +91 9393728474.