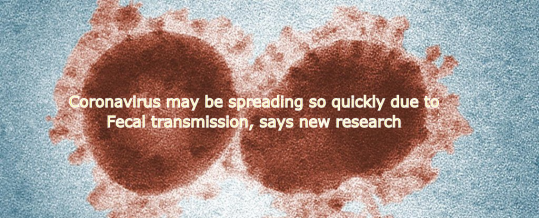 On the onset of the outbreak of Covid-19, the Chinese officials on January 20, confirmed human-to-human transmission of the deadly corona virus. The lethal virus has already claimed the lives of lakhs of people globally and governments are struggling to keep this virus from spreading and causing havoc.
People have been made aware to wash their hands whenever they come from out and those that are sick are advised to wear masks, so they don't spread the virus to others. But is this the only way that Covid-19 spreads?
A study published in 'The Lancet' reveals that corona virus is not just present in the big droplets that come from sneeze or cough of an infected person but also in the human feces. When tested for presence of virus, it was still found in feces even though the respiratory samples were tested negative for virus. This study was tweeted by famous actor Amitabh Bachchan and then retweeted by Prime Minister of India, Narendra Modi, and the official account of Swachh Bharat, sanitation scheme set up by the Central Government.
Why should the probability of spreading corona virus through fecal oral transmission be considered?
Fecal oral transmission of the virus happens when the feces of an infected individual is ingested by someone else. When infected people don't wash their hands after going to the washroom they will contaminate anything they touch. The virus can then be ingested by a healthy person that comes in contact with the contaminated things.
The SARS-CoV 2 belonging to the family of human corona viruses causes the Covid-19 that has been wreaking havoc on the world. The 2003 epidemic of SARS (Severe Acute Respiratory Syndrome) was caused by SARS-CoV and the 2012 epidemic of MERS (Middle Eastern Respiratory Syndrome) was caused by MERS-CoV. Both SARS and MERS cause symptoms of digestive and respiratory systems such as abdominal pain, diarrhea, and vomiting.
As per the study published in The Lancet, the genome sequence of SARS-CoV 2 matches that of SARS-CoV by 82%.
16 to 73% of the SARS patients had diarrhea and SARS-CoV RNA was discovered in their feces. This viral RNA was found in the stool of certain patients after 30 days of their sickness. Around 25% of patients that had contracted MERS also suffered from abdominal pain and diarrhea. Other MERS patients showed symptoms of fever and abdominal pain, but they showed no signs of respiratory system. MERS-CoV RNA was also found in 15% of fecal samples of individuals that were affected with MERS.
Earlier this year, Wuhan had just begun experiencing the outbreak of Covid-19. Between 2% and 10% of individuals suffering from Covid-19 showed symptoms of gastrointestinal problems. Atleast 1 in 10 individuals that were admitted for Covid-19 suffered from abdominal pain, nausea and diarrhea a couple of days before they developed fever and respiratory problems.
This information is significant because people thinking that Covid-19 is a type of severe flu
This information is significant because people thinking that Covid-19 is a type of severe flu, are under the wrong notion. Little do they know that they may get abdominal pain, nausea, and vomiting before they begin showing the signs of flu.
Did faecal oral transmission happen during the outbreaks of SARS & MERS?
There are some indicative data about this statement.
SARS-CoV RNA was found in the waters of the underground sewage of two hospitals in Beijing that were treating people infected with SARS.
The sewage water continued to remain infected for 14 days when it was at 4°C. However, this virus lasted just for 2 days in the sewage water when it was at 20°C. The test also revealed that the virus began to die after 24 hours when the temperature was 38°C and the relative humidity was 80% – 90%.
MERS-CoV also survives in low humidity and temperature conditions. The data also proposes the possibility of corona viruses to be transmitted when someone came in contact with traces of fecal matter over surfaces in low temperatures and humidity.
The Covid-19 causing novel corona virus has been found in the waters of a Dutch sewage.
If genetic material is detected in human feces then does it mean that transmission is probable?
SARS-CoV-2 RNA has also been found in the fecal matter of the first Covid-19 positive patient in the United States.
Detecting viral RNA in samples of feces and saliva doesn't quite mean that transmission is possible till the virus can be cultured in the laboratory from the RNA.
Two Chinese labs have revealed that they have isolated live SARS CoV-2 from the feces of the Covid-19 infected individuals. It reveals shedding – or passing of live virus.
Another positive viral culture from saliva reveals the probability of infection in the salivary gland and likelihood of transmission.
What does the data concerning virus in feces of Covid-19 patients propose?
A study conducted on 73 individuals infected by Covid-19 revealed that as the virus travels to the inner layer of the digestive tract more than 50% shed virus in their feces. They can also transmit the virus to others. 20% of the infected patients kept shedding virus despite showing negative for viral RNA in their respiratory tract.
A study conducted on 205 patients revealed that 30% of infected individuals were tested positive for RNA in feces samples. There were 2 patients that did not have any symptoms of diarrhea and yes, their feces had live SARS-CoV 2 virus present in it.
The feces of an individual were tested positive for SARS-CoV 2 despite getting continuous negative respiratory results of the same individual.
A much recent data reveals that the viral shedding in human excreta for about 5 weeks after the respiratory tests of the individual was tested negative for the SARS CoV-2 RNA.
Why is fecal-oral transmission important?
Fecal oral transmission might help in elucidating the fast spread of this deadly disease.
As of now, there aren't any cases of transmission through fecal-oral transmission of SARS CoV-2 viral that has been found. This may mean that infection through this route is improbable in hospitals, isolation centers, or when the person is observing self-isolation.
However, fecal-oral transmission of SARS CoV-2 might be likely in a contained living area like cruise ships, hostels or dormitories.
This is especially significant for countries such as India that don't have proper sanitation facilities even though the earlier data reveals that corona virus needs low humidity and low temperatures to survive for long.
Does the Covid-19 guideline require change with the new data available?
The Food and Drug Authority of the United States has announced a safety alert for Faecal Microbiota Transplantation (FMT) procedures because of probable transmission of SARS CoV-2 RNA through FMT.
The Indian Ministry of Health and Family Welfare and American Centres for Disease Control and Prevention guidance for all the patients discharged after treatment from Covid-19 is created based on the negative results of PCR testing for SARS CoV-2 from two consecutive upper respiratory tract specimens, like throat swab collected within 24 hours.
The main route for the transmission of SARS CoV-2 is still through the respiratory tract and the evidence is not enough to develop real-time preventive measures for the group of infected individuals with negative test samples of the respiratory tract but positive for fecal tests. There is more research needed over this matter.
Nevertheless, fecal matter should always be tested routinely for Covid-19 infected individuals. The hospitals should, however, observe necessary precautions if any patient is tested positive for SARS CoV-2 in their fecal sample.
Till now, India hasn't performed any fecal tests for Covid-19 patients. The medical authorities should definitely consider doing fecal tests.
What precautions should be taken?
Corona viruses are vulnerable to disinfectants that contain chlorine or bleach and antiseptics that contain ethanol.
The feces of the Covid-19 infected patients must be handled very carefully. The sewage/drainage system of the hospitals must be disinfected properly. All the workers engaged in the sewage must wear protective clothing such as boots, masks, gloves, safety glasses, and face protection.
Hands should be washed and sanitized, properly cooked food should be consumed and the utensils should be clean and dried properly after they are washed.
Disclaimer: This content including advice provides generic information only. It is in no way a substitute for qualified medical opinion. Always consult a specialist or your own doctor for more information. Anti Vibration Technologies does not claim responsibility for this information.