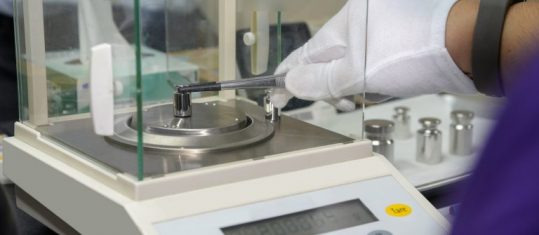 The standard micro balance will usually provide precise measurements up to 22g. When you want overall performance and quality in order to obtain consistent and reliable small mass measurements, a standard micro balance will most likely be the right option for you.
The primary factors that you need to compare among standard micro balances are:
Capacity
Readability
Response time
Repeatability
You also want to look at things like user-friendliness and how easy the balance is to clean and maintain.
What are the pros of using a standard micro balance?
A standard micro balance will give you exact measurements when weighing very small amounts. You can increase the services offered in your lab simply by adding a standard micro balance. Weighing small samples is impossible on regular scales. By investing in a micro balance, you can ensure that your small measurements are always right the first time. Avoid transfer errors and save your lab a lot of money, especially if you are handling expensive materials.
What are the cons of using a standard micro balance?
With a standard micro balance, you wont be able to obtain the lowest possible measurements. There are balances out there that can support an even lower weight capacity than an average micro balance can. While this might be considered a limiting factor to some people, a standard micro balance might provide you with all the functionality you need.
www.antivibrationtable.com provides working platforms for all types of balances. We offer different options to choose ranging from MS powder coated, SS 304, perforated top, etc. For quotes, specifications or to discuss your unique application needs, please use our contact webpage or call us at +91 9393728474.